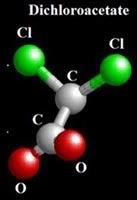 My mother has also pancreascancer, diagnosed on 26 jan 2009.We started DCA as soon as possible, togheter with the chemo. The latest Pet-scan (late april) showed stabelised tumor on the pancreas and the metastases on the liver were hardly seen. Thx to this we just had 3 months extra up to now.

She takes the standard chemo, 5 cups of black tea a day, B1, B6 and B12 and DCA (10 mg/kg/day in 1/2l/once a day/ of water) up to now. No side effects,except of the chemo,no coffee,and some extra homoeopathy tablets.

She lost about 20kg since december, but thats also due to the sugarfree diet (diagnosed with diabetis II), and the weight has been stabilised since beginning of march.

Every day she's got another day of quality, is another feast.

Is the DCA the answer? Well..., we're hoping, searching, researching, sharing, but most of all believing. And there's no wrong in discussing! Everyone can learn from that, we all get rich by doing this.